Here's How Jemand Added 156 New Clients In 3 Days...
Want To Discover How You Can Do This In Your Business?
Then Click The Button Below And We Will Personally Show You How To Use This.
What's In This Case Study?
This is a case study with our client Jemand. He runs a group training business where he helps his clients lose weight, tone up, and get in the best shape of their lives.
Jemand decided to reach out to us to see how we could help take his business to another level using our Social Video System. He already had clients, and he wanted to see ho we could leverage those clients to help him bring in more business using our social videos.
So we mapped out a plan with Jemand so that we could flood his business with new clients.
In this case study you will discover…
How Many Clients He Brought In

How Much Money He Made

What This Video System Is
What He Thought About This System

Exactly How He Used It

And The Real Reasons Why He Used It
So if you haven't yet, check out the video above to see how it worked for Jemand and the results he had.
Then, read below to see exactly how we worked with him to put this whole thing together.
How The Social Video System Worked For Jemand
Step 1 - Schedule Your Free Walkthrough Session.
So Jemand runs a group training business and really wanted to bring in more clients and create a deeper emotional connection with them. He already had a decent client base to start with so he was looking for something new.
Jemand had seen and heard about results others were having with our system, so he decided to reach out and set up a walkthrough session with us which was Step 1 in our process.
Step 2 - The Actual Walkthrough Session
In our call, Jemand shared in detail what his business was like, what was working best, and what areas he needed improvement on.
He also shared that he was looking for a way to take his business up a notch and attract his ideal clients. He was trying a lot of different angles and techniques but was looking for something else that would bring in a large number of "highly qualified leads."
He used a lot of different marketing strategies in the past.
Those had generated a lot of leads, but it also brought in a lot "tire kickers," or clients that were shopping around for the best deal and not really committed.
He wanted committed and engaged clients.
Once Jemand explained what he wanted we just shared different strategies, and techniques he could use to bring in more business.
We also explained how our process works, and that he didn't have to lift a finger to make it work. We would do it all for him.
The only thing he had to do was line up 5 clients he wanted us to work with and then send over his logo. That was it.
So he decided to jump on board and give it a go.
Step 3 - The Video and Interview Process
Normally we have our clients connect us with who they want us to work with. From there we reach out to them and set up a time to do a video interview with them online (95% of our clients do it this way).
In this case, Jemand decided to opt in for our "on site" package. Since Jemand was close to where we were located we went to the gym to record everything there.
****Note****
There is no difference in results that we have found between the "on-site" package or the virtual package (online version).
Once at the gym, we recorded video of his clients and classes in action.
As the session wrapped up, we met with the 5 clients and did the interviews with them.
These interviews were easy, and "no stress" conversations with the clients. All they had to do was tell their story. That was it.
It was quick, easy, and fun for Jemand's clients.
****Another Quick Note*****
We also ended up doing individual interviews online. We wanted to make sure we got the full story from each client and not miss a single detail. So we recorded each clients individual interview online.
Here is one of those case study interviews...
Generally we either do all online interviews, or all "on-site" interviews.
For Jemand's project we used a combination of both.
Doing the online interviews allowed us to organize a 2nd montage video (see below).
Step 4 - The Editing Process
Once we had all the videos recorded we went to work and started to organize and put everything together.
Not only did we focus on the video editing, but we made sure to include…
Audio corrections
Video corrections
Graphics and text
And optimizing the video. (Allows it to play on mobile devices and tablets)
From there we processed each individual video interview. We even turned those into separate audio files (MP3's) so Jemand could use those for different marketing pieces.
Once the individual interviews were completed we dove into creating 2 montage videos.
The first montage video would be the main one. This was the video we shot "on-location"
Here's that video…
Video 1
The second montage video was done using the online interviews.
It was designed to reveal who the trainers were that were running things, and help connect leads and prospects to them on an emotional level.
You can see that video here…
Video 2
The montage videos are the heart of the social video system.
They are created and designed to…
Connect with your ideal clients
Generate a ton of leads
Increase conversions
Overcome any objections a prospect has
And connect emotionally with any prospect who sees it.
These montage videos follow a very unique process that we have tested over and over again to consistently generate leads, convert leads into sales, and connect on a very deep emotional level .
The best part is that any prospect who sees these videos never feels like they are being sold to.
It was these videos that brought in 156 new clients for Jemand in 3 days.
The final part in the process was to find the best sound bites, and turn them into written testimonials.
That way Jemand would have video, audio, and written samples to use in his marketing.
As parts were completed, we sent them over to him.
Here's that email...

Jemand  texted back.  Here was his response...
Step 5 - The Marketing Strategy And Putting It In Action
Here's what's really amazing about this system...
The videos are created in such a way that they market themselves.
But to make 100% sure we did a final coaching call with Jemand, and laid out a strategy on the best way to use his videos.
Based on how his business was run we decided to show him how to put together a tiny promo.
All that needed to be done was set up a very simple web page that described that promo.
Here's that page…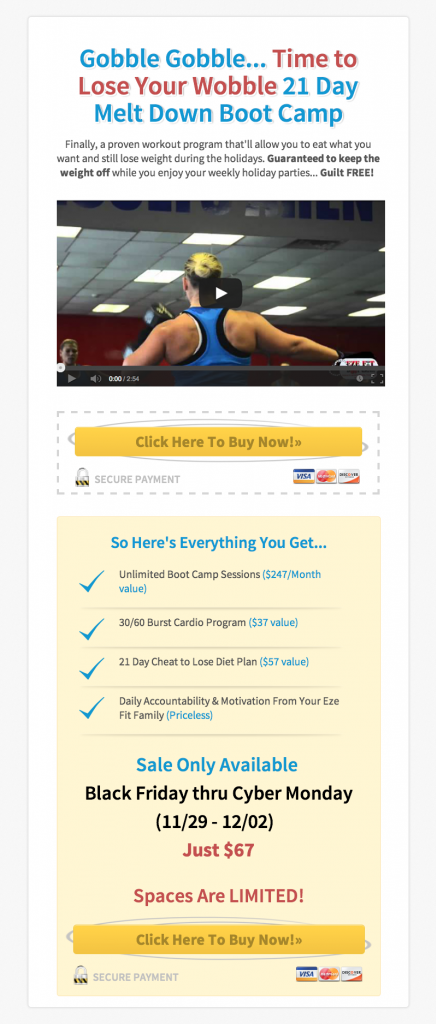 From there, all Jemand did was...
Get his current clients to share the page on Facebook.
And that was it.
Seriously, that was all he had to do.
He ran no ads, didn't do any fancy marketing, he just had his clients share it.
By doing just this, he brought in 156 new clients in 3 days, and ended up generating $46,452.
The best part about all of this (besides the new clients and money) is Jemand did almost zero work.
He just lined up his clients for us, and when everything was done he told them to share the videos on Facebook.
That was it.
Here's Where It Gets Interesting…
This system works for any type of business.
Business coaching
Masterminds
Personal training/Clubs/Gyms
Online training
MMA/ Karate Schools
Photography/ Wedding Businesses
Real Estate Businesses
Etc.
We've used this process for all types of businesses, and our clients have been very happy with the results.
In fact if you think that we are trying to hype things up, or force feed some marketing scam, then feel free to contact our clients..
If you'd like we will even connect you with clients to speak to.
We have no problem doing this is because we believe in what we do, and it gets results.
Plus…
We decided to do something pretty cool for you.
We are going to offer you a virtual walkthrough session.
This walkthrough is designed for you to hop on the phone (or Skype) with us so we can see what you need help with in your business.
We will share strategies, and techniques that you can use instantly to generate more leads. And then we will share some details about our social video system and see how it would fit into your business.
It's basically a coaching session at no cost.
Plus we will also be sharing strategies that our paying clients are using.
So if you want to chat for bit and see how we can help, all you need to do is just click the button below.
Once you do that, you will be sent a link to schedule a time that works best for you.
So go ahead and click the button below, and we will talk with you soon.